Wakko Warner



Full name:

Wakko W. Warner

Age:

4 (at the beginning of the series)
10 (at the end of the series and Animaniacs: The Movie)
11 (Wakko's wish and Zany to the Max)
22 (as of 2010)

Family

Sir Willam the Good (father), Queen Angelina Contessa Louisa Francesca Banana-Fanna Bo Besca the Second (mother), Yakko (brother), Dot (sister), Wokka (spouse), Josephine (cousin), Yakko Warner I (grandfather), Queen Angelina Contessa Louisa Francesca Banana-Fanna Bo Besca the First (grandmother), Varners (in-laws), Sakko (cousin, fake brother), ZakKo (cousins), Pakko (cousin), Makko and Rokko (twin cousins), Jot (cousin), Chell (cousin), Jakko Warner (uncle), Dakko Warner (uncle)

Nationality:

Warnerstockian

Species:

Toon

Hair/fur color

black

Cathphrase(s)

Hello Nurse!!"
"Faboo!"
"Yakko, are you pondering what I'm pondering?" (Zany to the Max)

Voiced by

Jess Harnell (series), Maurice LaMarche (belches in English version), Michel Mella (French), Santiago Ziesmer (German), Yuu Mizushima (Japanese), Roman Soiko (Chinese), Ferbette (Animaniacs: The Movie), h≡r (Zany to the Max)
Wakko (voiced by
Jess Harnell
) wears a sky-blue turtleneck and a red cap turned backwards with holes cut out for his ears.
Early Life
Edit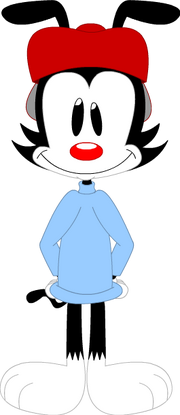 Wakko W. Warner
was born on November 4, 1988 in Acme Falls, Warnerstock to Sir Willam the Good and Queen Angelina Contessa Louisa Francesca Banana Fanna Bo Besca the Second. In 1992, however, his parents passed away, and King Salazar the Pushy took control, sending Wakko and his two siblings, Yakko and Dot, into exile, never expecting to see them again. Later, the Warners discovered that their parents had been the king and queen of Warnerstock, making them the heirs to the throne. Salazar was kicked out of the palace (literally), and the Warners became co-rulers of the kingdom. One day, their life was threatened, so they fled to Burbank, California, where they attracted the attention of a social worker and went into foster care a whole bunch of times. A year later they landed the Animaniacs which was a huge success until the cancellation in 1998 where they were replaced by
Yokko
,
Wokka
, and
Dok
.
Wakko wears a red cap and a blue sweater and white gloves.
Ad blocker interference detected!
Wikia is a free-to-use site that makes money from advertising. We have a modified experience for viewers using ad blockers

Wikia is not accessible if you've made further modifications. Remove the custom ad blocker rule(s) and the page will load as expected.